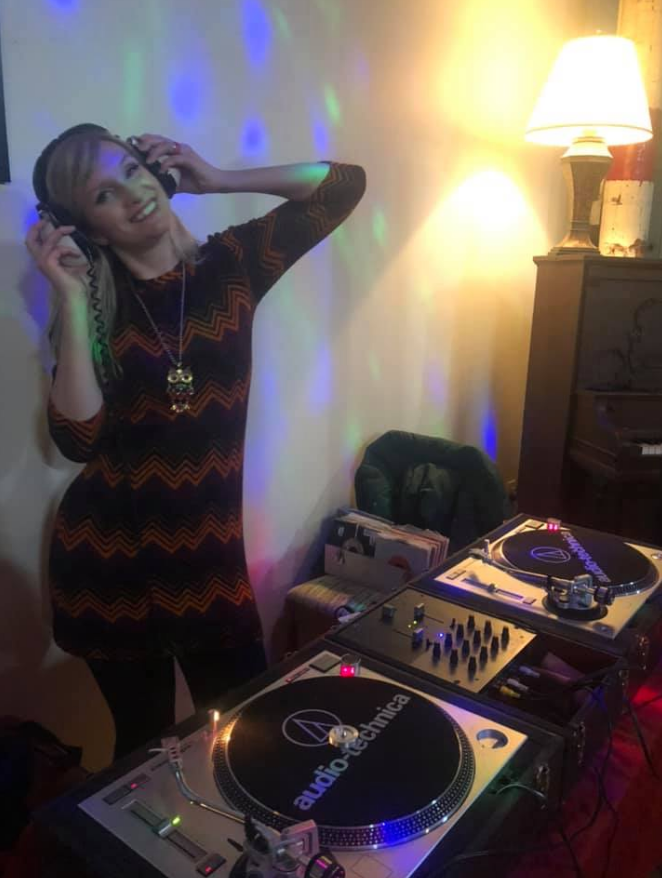 (an ancient photo in a time when DJing was legal: March 2020)
Greetings from locked-down Ontario! 
To get through the past few weeks with any shred of sanity, I've taken a break from social media… otherwise known as "living the dream".  I'm sure you artists can relate – the constant pressure to create content, fighting with the algorithms.  It's a miracle that you've even found me, as I don't pay to have my content seen.  If you want one-on-one monthly contact with me directly in your email basket, please do subscribe to my monthly newsletter.  It's the only way to ensure I'm not just screaming into the common void.   
The other thing that's truly keeping me sane is hiking.  Even though my current environment is restricted, I can still pop in to an "essential" government-run cannabis dispensary, put my headphones on, find a trail, and walk on.  I use Spotify to keep track of new releases, and wanted to share some great tunes that have put a kick in my step: 
"Burn It Down" Gyasi.  This dude's wheelhouse is British 70s glam and classic rock done superbly.  The Led Zeppelin vibes on this one make me wanna do rock n' roll kicks across a stage with a glitter covered kerosene can and BURN EVERYTHING. 
"Never Let A Day Go By" Todd Snider.  Snatching up all the best musical elements of the 70s and 80s from the ether like a noble Protector, and delivering them back to the universe in an authentic new form.  I just like the plain simple message to the song.  Never let a day go by.  Full stop. 
"Bend The Rules" (Mndsgn Remix) Anomalie, Chromeo. Following up past pandemic faves like "Clorox Wipe", Chromeo are back with a collab with Anomalie.  You'll hear flavours of Prince and Stevie Wonder in this "love in the time of COVID" track. 
"Dream Girl" Ivy Sole.  Whatever genius resulted in the combination of Smokey Robinson's "Cruisin" with "It's Changed" from the Lonnie Smith Afrodesia album, they achieved summertime groove perfection. 
"Seven Nation Army" The White Stripes/The Glitch Mob remix. If you're hanging somewhere between civil disobedience and total mutiny, this is your jam.  Props to Third Man Records for catching the zeitgeist and bringing this monster hit back, a song I hear nearly every day as my 4 year old son constantly hums it (this track will be licensed for his future biopic, for sure) 
"Diamond Studded Shoes" Yola. When this came on, I immediately stood up straighter, head and shoulders higher. Yola defies all genres, slays all categories.  It's got a great classic Elton John feel.  Written about UK prime minister Theresa May's choice of footwear while announcing public service cutbacks.  Same class struggle, different decade. 
"Love Should Come With A Warning" Van Morrison.  I don't have much time for Van Morrison these days (when I interviewed music supervisor David Hayman he commented on his experience licensing Van the Man: "I love him… but he's got to up his humanity".), but I couldn't bring myself to press skip.  That inviting organ, downbeat groove, blues lilt.  It's simply a great song that sounds like it could have come out of Big Pink. 
"L'appartement" Clio & Iggy Pop.  The beautiful breathy feathery French vocals, then, woah is that Leonard Cohen singing in French?  *checks phone* Nope. IGGY POP!  Their voices contrast like a trickling waterfall stream being sucked into an undercurrent.  Trying to make sense of this sonic experience leaves my brain scrambled… in a good way. 
SONG SEARCH 
Are you a musician looking to get your music placed in film & TV?  Sign up to the newsletter version of this monthly blog to get briefs on music I'm looking for, exclusive to email subscribers (and it's free).
HAMILTON FILM PODCAST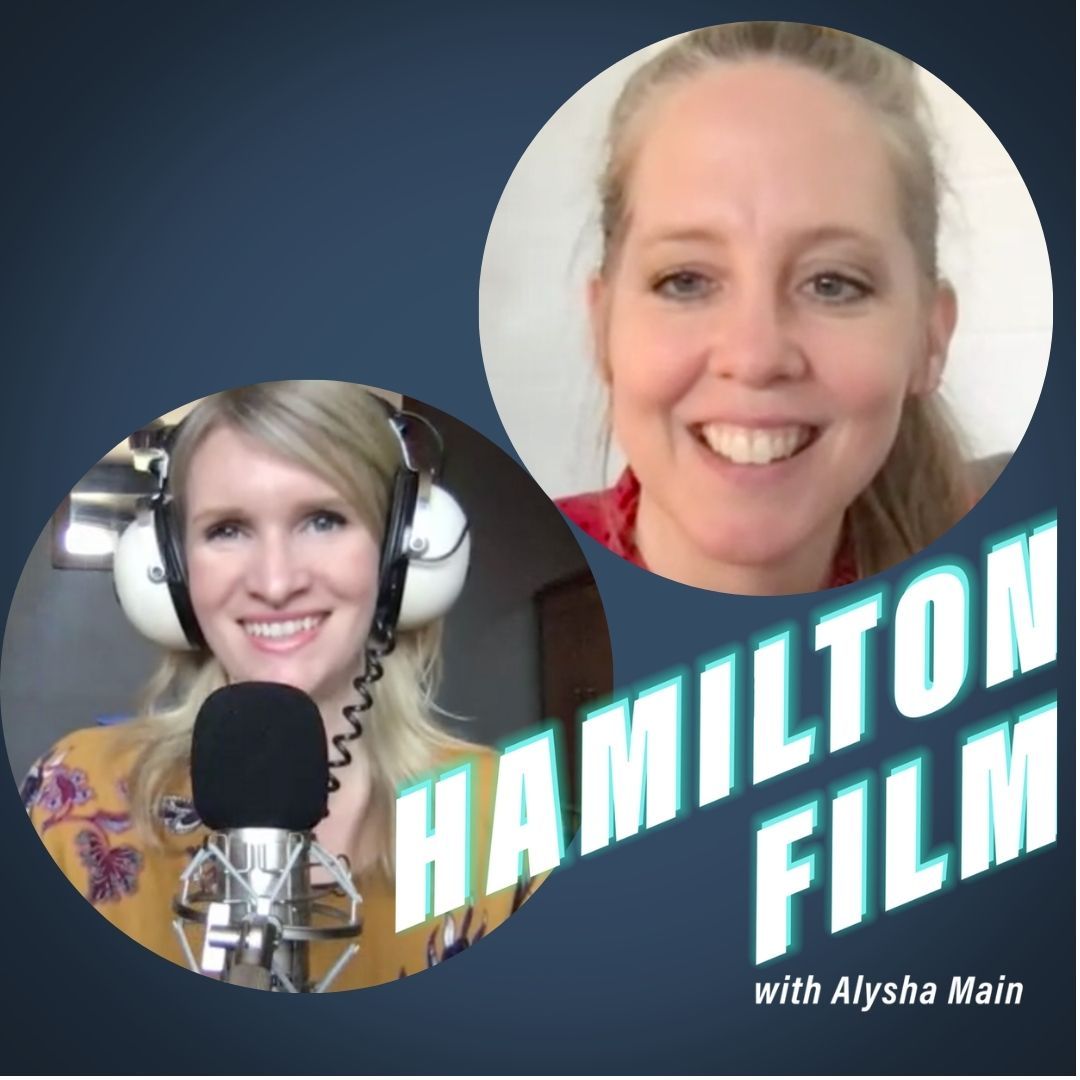 I'm halfway through Season 3 of my Hamilton Film podcast, and have just passed 900 listens (a big achievement since I've never advertised it or had any publicity).  The latest episode features a chat with Peregrine Visual Storytelling co-founder Kirsten Bodenstedt.  The company specializes in visual effects and animation tools.  We talk about her lifetime working in film, the challenges of working as a husband-wife team, and attending the Oscars with a baby on her lap.   Listen here. 
RECOMMENDATIONS 
Chris Altmann's new songs.  My man is releasing songs for the first time on over 5 YEARS, out May 7.  One is a cover of the Psychedelic Furs "Love My Way" featuring a duet with Suzie McNeil, and the other is a psychedelic 1970s California type groove called "Somewhere".  Pre-save by clicking the song titles.  Sneak a listen of both tracks now here.  Shout out to Mark Frieser & Chris Mollere from Sync Support for motivating him to create. 
"There Are No Fakes". A compelling documentary about the largest art fraud case in Canadian history.  This story of a forgery ring creating fake paintings by celebrated Indigenous artist Norval Morrisseau uncovers alarming exploitation and abuse. 
"You Must Remember This". This is an incredible podcast explores Hollywood's first century.  A new season just started, about Louella Parsons and Hedda Hopper, two powerful women who invented and dominated Hollywood gossip as it was known in the 20th century.  Every season is fantastic and worth a listen.